Edwina is President of her local Conservative Association in High Peak. She has been a Conservative member for over 50 years and continues to be actively involved, alongside John Jones ("JJ") her husband, who served 8 years as councillor in Reigate & Banstead. She is in much demand for fund-raiser and speaker events for the party in Britain and abroad, and mentored several new MPs into Parliament. She says, "It's good to see more than 200 women MPs now - real progress has been made. I am delighted that we have won back the High Peak with our new MP ROBERT LARGAN, and that the Conservatives have a substantial majority with which we can make real progress."
Edwina Currie was a Birmingham City Councillor (1975-86) and Chairman of the Central Birmingham Health Authority and served as MP for South Derbyshire from 1983 to 1997. She entered Parliament on the same day as Tony Blair, Gordon Brown and Jeremy Corbyn.
One of only 23 women in the House on election (out of 656 Members), she quickly became one of the nation's best-known MPs. In December 1988, Edwina was runner-up to Mrs Thatcher in BBC Radio 4's "Woman of the Year" poll; the following year she came 6th in the same poll (between Mother Theresa and Raisa Gorbachev). In 1990 she was voted "Speaker of the Year" by the Association of Speakers' Clubs and in 1994 was chosen "Campaigner of the Year" in the Spectator Parliamentarian of the Year Awards for her work on gay equality.
1988 Dept of Health Ministers and regional chairmen
From 1985-86, Edwina was PPS (aide) to the Secretary of State for Education and Science, Sir Keith Joseph; from 1986-88 she was a government Minister at the Department of Health and Social Security (later the Department of Health) under Margaret Thatcher, with responsibility for campaigns on women's health and the promotion of healthier lifestyles. Her greatest achievement was bringing in nationwide screening systems for breast cancer and for cervical cancer, with associated treatment services, all free of charge on the National Health Service, making Britain the first in the world to have both. Independent research has shown that many thousands of women's lives have been saved in the years since. Her roles also included membership of the first UK team to tackle HIV/AIDS in 1986, and the introduction of the triple vaccine MMR (measles, mumps rubella) for children in 1988. She was also the first UK health minister to take a close interest in End of Life, sending out the first circular to the NHS requiring them to work closely with local hospices and to pay for beds used.
29 Jan 1993, Any Questions from Co Durham with the late Nick Clarke
Edwina wrote her first book, "Life Lines – Politics and Health 1986-88" about these busy years of achievement. It was published by Sidgwick and Jackson in 1989. Three of her novels are set in Parliament – see Writing page.
In December 1988 Edwina resigned from government after warning about food safety in eggs. Mrs Thatcher's successor as Prime Minister, John Major, invited her to rejoin the government in 1992 as a Minister of State, but she declined and thereafter worked from the backbenches.
Interview 8th May 2013 ahead of the 25th Anniversary of the Salmonella Crisis.
A supporter of Stonewall and of TORCHE (the Tory Campaign for Homosexual Equality), Edwina took the lead in proposing legislation to give equal rights of consent to gay men, calling a debate in February 1994, the first in the House of Commons in 25 years. The House voted to reduce the age of consent for gays in Britain, which had been 21, to 18; it has since been lowered to 16, the same as other groups in British society. Edwina is delighted at the substantial improvements in the rights of her fellow citizens which have occurred in recent years, and welcomes the change since the prejudice which greeted that first debate in 1994.

See film of the debate at the bottom of this page.
Click here to see the written record of the debate
Trafalgar Sq Jan 1994 Gay Rights rally with Tony Banks MP and daughter Debbie
Other campaigns included support for our military personnel who returned from the first Gulf War in Iraq in 1991 suffering from Gulf War Syndrome. She set up a multi-agency team with the Royal British Legion, SSAFA, Combat Stress and others, and successfully pressed Ministers to accept responsibility and to compensate the victims and their families.

During the 1990s she championed the cause of people with learning disabilities who had been abused, following a famous case in her constituency which resulted in the trial and imprisonment of a care worker. To help witnesses and victims she set up a registered charity, VOICE UK, with funding from the Department of Health and the Home Office.
She lost her seat in the 1997 General Election. Thus were completed 22 years of elected public service.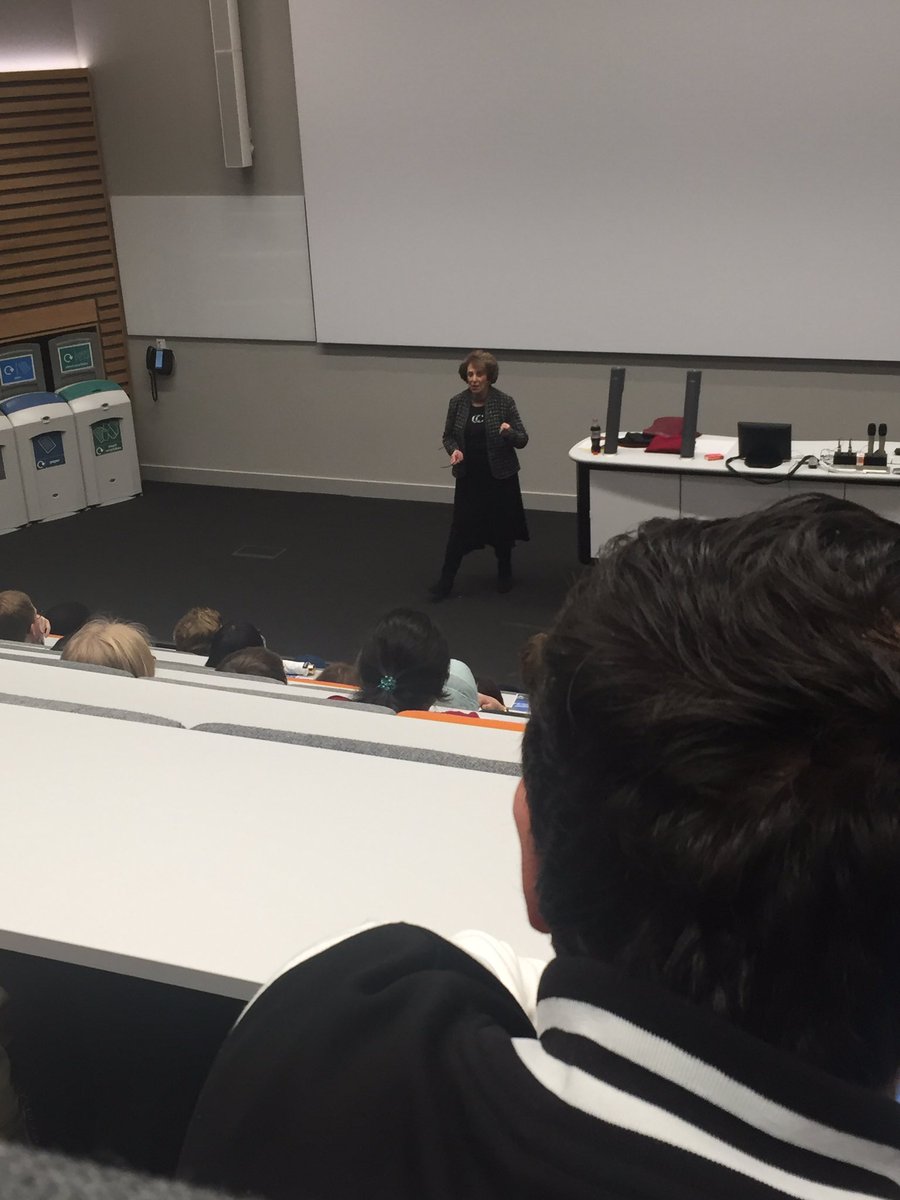 Edwina speaking at University of Warwick during a debate 21 Oct 2016.
A fourth career is emerging, as a campaigning pensioner. From 2012 till Edwina was on the Greater Life Advisory Board of McCarthy & Stone, builders of 70% of the UK's retirement apartments for owner occupation. In October 2013 she presided over the Housing for Older People awards at the National Motorcycle Museum. She was on the Mental Health Foundation's inquiry into mental health and ageing well entitled "Getting On.. with Life" published May 2013. In November 2016 she gave the Annual Lecture at the National Osteoporosis Society in London, and she speaks regularly on "Growing Old Disgracefully.

As an economist and a pensioner, I worry that too few people think about getting older – where to live, arranging finances, having help close at hand when it's needed," she says. "Governments have turned a blind eye for too long to the ageing of our population, a large proportion of whom live alone. Yet our older people are a vast source of knowledge and experience. We already have more citizens over 85 than youngsters under 16, but it's taking too long for planners and families to catch up."
Read Edwina's article in "The Guide To Later Life"
On Radio
"Religion & Politics"
Radio 4 - November 2013
"Podcast: Edwina Currie on MPs' pay - 8 Dec 13"
Speaking to Emma Barnett on LBC Radio - 8th December 2013
Newspaper Articles
"The Age of Consent Debate"
Debate in the House of Commons concerning the age of consent for gays (1994)